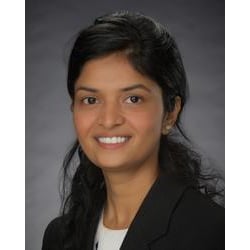 Sravanthi Parasa, M.D.
Gastroenterologist
Rating 4.5
Accepting New Patients
Swedish Gastroenterology - First Hill
US
About Sravanthi Parasa, M.D.
Dr. Parasa believes that the physician/patient relationship is crucial to accomplishing best outcomes, and strives to provide patients with accurate, up-to-date information about their condition and diagnosis. As a gastroenterologist, she applies best practices and judgement, along with the latest technologies to improve patient outcomes. Her background in research, health care quality and costs, give her unique insights in disease management. Dr. Parasa is interested in understanding the natural history, epidemiology and risk factors involved in the progression of various gastrointestinal disorders, and has published several papers related to these interests.
Education
University of Kansas School of Medicine

Fellowship, 2016

Gandhi Medical College, India

Medical School, 2007

Georgetown University -School of Medicine

Residency, 2012
Board Certifications
American Board of Internal Medicine - Gastroenterology
American Board of Internal Medicine - Internal Medicine
Languages
Insurances Accepted
Aetna Medicare Advantage HMO
Aetna Medicare Advantage PPO
Aetna PPO
Amerigroup - Medicare Advantage
Choice /Humana PPO
Cigna PPO
Community Health Plan of Washington (WA Apple Health)
Coordinated care (WA Apple Health)
Coventry/First Health PPO
Health Net - TriCare
Humana Medicare Advantage
International Community Health Services Pace Program
Kaiser Foundation
Medicare
Molina
Molina Healthcare (WA Apple Health/Healthy Options)
Multiplan PPO
Premera Medicare Advantage HMO
Providence Health Plan
Providence Health Plan - Medicaid
Providence Health Plan - Medicare Advantage
Regence BlueShield of Washington
United Healthcare HMO
United Healthcare Medicare Advantage
United HealthCare PPO
WellCare
Clinical Interests
abnormal bowel movement
achalasia
allergic esophagitis
allergic gastroenteritis
altered bowel habits
autoimmune enteropathy
barrett's esophagus
biologic therapy for gastrointestinal (gi) diseases
blood in stool
bravo ph test
bright red blood per rectum
celiac disease
choking sensation
chronic diarrhea
clostridium difficile
colitis
colon polypectomy
colon stricture
colonic polyps
colonoscopy
constipation
digestive disorders
diverticular disease
diverticulitis
diverticulosis
duodenal ulcer
duodenitis
dyspepsia
dysphagia
endoscopic mucosal resection of esophagus
endoscopic mucosal resection of large colon polyps
endoscopy
eosinophilic colitis
eosinophilic enteritis
eosinophilic esophagitis
eosinophilic gastritis
esophageal cancer
esophageal disorder
esophageal mass
esophageal ulcer
esophageal varices
esophagitis
esophagogastroduodenoscopy (egd) with botox injection
esophagogastroduodenoscopy (egd) with dilation
family history of colon cancer
family history of colon polyps
fecal transplant
gastric anomaly
gastric ulcer
gastritis
gastroenteritis
gastroesophageal reflux disease
gastrointestinal (gi) cancer screening
gastrointestinal amyloid
gastrointestinal bleeding
gastroscopy
gluten sensitivity
helicobacter pylori
hematemesis
hematochezia
hiatal hernia
hirschsprung's disease
ileitis
ileoscopy
inflammatory bowel disease
iron deficiency anemia
irritable bowel syndrome
lynch syndrome
odynophagia
pancreatitis
peg (percutaneous endoscopic gastrostomy)
peg tube evaluation
peptic ulcer
peutz jeghers syndrome
polyposis syndrome
polyps
radiofrequency ablation for barrett's esophagus
rectal bleeding
rectal hemorrhage
rectal pain
rectal polyp
regional enteritis
right lower quadrant pain
right upper quadrant pain
small bowel disease
small bowel stricture
stomach cancer
stomach cramps
stomach disorders
stomach pain
swallowing problem
tenesmus
ulcerative colitis
Swedish Gastroenterology - Issaquah
751 Northeast Blakely Drive, Suite 3020
Issaquah, WA 98029
Patient Reviews
(47 Reviews)
I truly appreciate Dr Parasa. She was very informative, knowledgable and definitely had a caring attitude
After being rescheduled a few times I finally got an appointment w/ GI doc Dr. Parasa. Although it was a short visit and wish we could've talked a little longer. I am happy w/ the care I received and would see her again. Hope to get my issues fixed soon w/ the help of Dr. Parasa
She was excellent. Very professional and very clear. Procedure went very well too. Thank you.
she was very nice and helped me with my problems
she left me feeling positive & hopeful that she will get my health issues figured out
I am very satisfied with Dr. Parasa! She is excellent and caring, and she listens to the patient and is very respectful!
This was a virtual visit which was my first. I was very comfortable with Dr. Parasa & she explained everything & answered my questions.
There was a glitch in getting my prep medicine for upcoming procedure but it was taken care of in the nick of time and I was able to have my procedure as planned. Swedish has an excellent, efficient team.
The Patient Rating score is based on responses given during the CAHPS Patient Experience Survey. Comments are also gathered from the same survey and displayed in their entirety with the exception of any language that may be considered slander, libel or contain private health information, which will be removed prior to publishing the comments. Responses are measured on a 10 - point scale, with 10 being the best score. These scores are then translated to a 5 - point scale in order to display results in a 5 - star rating.