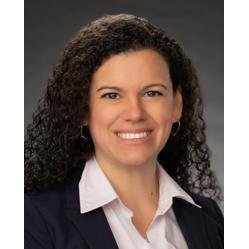 Fernanda B. Musa, M.D.
Gynecologic Oncologist
Rating 4.9
Accepting New Patients
Swedish Cancer Institute Gynecologic Oncology and Pelvic Surgery
US
About Fernanda B. Musa, M.D.
Dr. Musa prides herself in taking care of her patients as a whole. She is happy to offer them minimally invasive surgery whenever possible and feels privileged to also be able to care for them through out their treatment.
Education
New York Presbyterian Hospital

Residency, 2011

Columbia University

Medical School, 2007

New York University Medical Center

Fellowship, 2015
Board Certifications
American Board of Obstetrics and Gynecology - Gynecologic Oncology
American Board of Obstetrics and Gynecology - Obstetrics and Gynecology
Associations
Society of Gynecologic Oncology
Languages
Insurances Accepted
Aetna Medicare Advantage HMO
Aetna Medicare Advantage PPO
Aetna PPO
Amerigroup - Medicare Advantage
Cigna PPO
Community Health Plan of Washington (WA Apple Health)
Coordinated care (WA Apple Health)
First Health/Coventry PPO
Health Net - TriCare
Humana - ChoiceCare PPO
Humana Medicare Advantage HMO
International Community Health Services Pace Program
Kaiser Foundation
Medicare
Molina
Molina Healthcare (WA Apple Health/Healthy Options)
Multiplan PPO
Premera Medicare Advantage HMO
Providence Health Plan
Providence Health Plan - Medicaid
Providence Health Plan - Medicare Advantage
Regence BlueShield of Washington
United Healthcare HMO
United Healthcare Medicare Advantage
United HealthCare PPO
WellCare
Clinical Interests
abdominal cerclage
abdominal chemotherapy
abdominal cramps
abdominal surgery
abnormal pap smear
abnormalities of the uterus
amenorrhea
anemia of pregnancy
anovulation
anovulatory bleeding
asymptomatic bacteriuria
atrophic vaginitis
atypical glandular cells of undetermined significance
atypical squamous cells of undetermined significance on pap smear
bacterial vaginosis
bartholin gland carcinoma
bartholin gland cyst
benign breast lump
bicornuate uterus
birth control
bladder prolapse
bladder training
breast examination
breast lump
cancer
cancer chemotherapy
cancer screening
cancer surgery
cervical biopsy
cervical cancer
cervical conization
cervical dysplasia
cervical intraepithelial neoplasia
cervical polyp
chlamydia female only
choriocarcinoma
chorionic villus sampling
colposcopy
complete uterovaginal prolapse
condylomata acuminata
cryotherapy of the cervix
cystitis
cystocele
da vinci hysterectomy
delayed menarche
delayed puberty
dermoid cyst
detrusor instability
dilation and curettage
dysgerminoma of ovary
dysmenorrhea
dyspareunia
dysuria
ectopic pregnancy
endometrial ablation
endometrial biopsy
endometrial cancer
endometrial hyperplasia
endometrioma
endometriosis
endometritis
enterocele
fallopian tube cancer
fallopian tube disorders
familial ovarian cancer
female anorgasmia
female genital problems
female urinary incontinence
fibroid removal
fibroids
follicular cyst of ovary
galactocele
genital herpes, female
genital warts
gestational trophoblastic disease
gynecologic (gyn) cancer care
hormone replacement therapy
hot flashes
human papilloma virus (hpv)
hydatiform mole
hyperemesis
hysterectomy
hysteroscopy
imperforate hymen
incomplete emptying of bladder
incomplete uterovaginal prolapse
increased frequency of micturition
intrauterine device (iud) placement
irregular menstruation
labial adhesions
laceration of vagina
laparoscopic hysterectomy
laparoscopic lysis of peritoneal adhesions
laparoscopy
laparoscopy pelvic lymphadenectomy
leiomyoma
leiomyosarcoma of uterus
lichen sclerosis
malignant neoplasm of cervix
malignant neoplasm of mesovarium
mastodynia
menometrorrhagia
menopause
menorrhagia
missed periods
oligomenorrhea
operations on cul de sac
oral contraceptive counseling
ovarian cyst
ovarian cystectomy
ovarian debulking surgery
ovarian endometriosis
ovarian failure
ovarian mass
ovarian torsion
overflow incontinence of urine
oviduct cancer
paget's disease of vulva
pap smear
paratubal cyst
partial hysterectomy
pelvic abscess
pelvic adhesions
pelvic floor dysfunction
pelvic floor exercise
pelvic inflammatory disease
pelvic lymphadenectomy
pelvic malignancy during pregnancy
pelvic mass
pelvic organ prolapse
pelvic pain
pelvic reconstruction
pelvic surgery
pelvic varicose veins
perimenopause
perinatal mental health
pessary
placental disorders
polycystic ovary syndrome
post partum check up
postcoital bleeding
postmenopausal bleeding
postpartum mastitis
preconception counseling
preeclampsia
pregnancy
pregnancy counseling
premature adrenarche
premature ovarian failure
premenstrual dysphoric disorder
premenstrual syndrome (pms)
prenatal care
prenatal testing
preterm premature rupture of membranes
primary amenorrhea
prophylactic oophorectomy
radical trachelectomy
radical vulvectomy
recurrent urinary tract infection
robotic gynecological surgery
routine gynecological care
salpingo oophoritis
sarcoma
selective estrogen receptor modulation
septate uterus
sexual dysfunction
sexually transmitted disease (std)
squamous intraepithelial neoplasia
surgical staging
teratoma
teratoma of ovary
tubal ligation reversal
tubo ovarian abscess
unicorneate uterus
urethral cancer
urge incontinence
urinary incontinence
urinary retention
urinary stress incontinence
urinary tract infection
urinary urgency
uterine bleeding
uterine cancer
uterine fibroid embolization counseling
uterine lining removal
uterine myoma
uterine polyp
uterine prolapse
uterine surgery
vaginal abscess
vaginal atrophy
vaginal biopsy
vaginal birth after caesarean section
vaginal bleeding
vaginal bleeding after hysterectomy
vaginal cancer
vaginal candidiasis
vaginal discharge
vaginal hysterectomy
vaginal infections
vaginal intraepithelial neoplasia
vaginal irritation
vaginismus
vaginitis
vaginoplasty
vasomotor symptoms
virtual care
vulvar abscess
vulvar cancer
vulvar disease
vulvar dysplasia
vulvar vestibulitis
vulvodynia
vulvovaginitis
water birth
water birth information
women's health
Providence Gynecologic Oncology
1717 13th Street, Suite 300
Everett, WA 98201
Swedish First Hill
747 Broadway
Seattle, WA 98122
Patient Reviews
(38 Reviews)
I am so very grateful for my visit with Dr. Musa. I felt heard, she put me at ease, and I feel safe in her care.
excellent doctor, knowledgeable and compassionate, patient and capable.
Dr Fernanda Musa is an excellent oncologist/surgeon/caregiver. I felt she answered all my questions & never was rushed. She is extremely knowledgeable & i believe im in good hands moving forward w/my cancer treatment. I have a rare malignant ovarian tumor & will continue to see Dr Musa. She is very positive & upbeat in her demeanor which i instantly appreciated as well.
Her caring manner helped me relax and made the exam less stressful. She took time to answer my concerns and questions.
explained all procedures well, answered all questions thoroughly and took time to make sure I understood everything
always the best! explains, cares, answered all questions! always reminds you it's ok to call her in future. her assistants are great!
The Patient Rating score is based on responses given during the CAHPS Patient Experience Survey. Comments are also gathered from the same survey and displayed in their entirety with the exception of any language that may be considered slander, libel or contain private health information, which will be removed prior to publishing the comments. Responses are measured on a 10 - point scale, with 10 being the best score. These scores are then translated to a 5 - point scale in order to display results in a 5 - star rating.