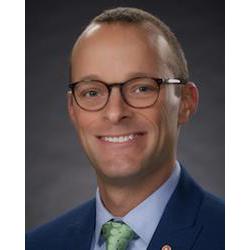 Joseph B. Golden, M.D., FACS
Head and Neck Surgeon
Rating 4.7
Accepting New Patients
Swedish Head and Neck Surgery
US
About Joseph B. Golden, M.D., FACS
Dr. Golden is a board-certified and fellowship-trained Head and Neck Surgeon. He practices the full spectrum of Head and Neck Oncology, including Endocrine Surgery, Microvascular Reconstruction, and Robotic Surgery among others. After serving on active duty in the United States Army, he joined the Swedish Head and Neck Surgery practice in 2017. Dr. Golden focuses on treating the patient, not the disease. This means listening to the patient's concerns, discussing diagnoses and treatment options in understandable terms, and making decisions with the patient, not for the patient. Dr. Golden is dedicated to offering state-of-the-art, cutting edge cancer care. In his free time, Dr. Golden enjoys running, surfing, hiking, and cooking.
Education
University of Alabama School of Medicine

Medical School, 2007

University of Alabama - Birmingham

Residency, 2012

University of Alabama School of Medicine

Fellowship, 2013
Board Certifications
American Board of Otolaryngology - Otolaryngology
Languages
Insurances Accepted
Aetna Medicare Advantage HMO
Aetna Medicare Advantage PPO
Aetna PPO
Amerigroup - Medicare Advantage
Cigna PPO
Community Health Plan of Washington (WA Apple Health)
Coordinated care (WA Apple Health)
First Health/Coventry PPO
Health Net - TriCare
Humana - ChoiceCare PPO
Humana Medicare Advantage HMO
International Community Health Services Pace Program
Kaiser Foundation
Medicare
Molina
Molina Healthcare (WA Apple Health/Healthy Options)
Multiplan PPO
Premera Medicare Advantage HMO
Providence Health Plan
Providence Health Plan - Medicaid
Providence Health Plan - Medicare Advantage
Regence BlueShield of Washington
United Healthcare HMO
United Healthcare Medicare Advantage
United HealthCare PPO
WellCare
Clinical Interests
acinic cell cancer (acc)
adenoid cystic carcinoma
branchial cleft cyst
cervical spine mass
distortion of the face
ear cancer
ear melanoma
face cancer
free flap neck
growth on head
growth on neck
head and neck cancer
head and neck melanoma
head and neck sarcoma
head lump
head mass
hoarseness
jaw cancer
laryngeal cancer
malignant neoplasm of lip
malignant neoplasm of tonsils
mandibular resection prosthesis
melanoma on face
mouth cancer
nasopharyngeal cancer
neck biopsy
neck cancer
neck cyst
neck lymph nodes
neck mass excision
neoplasm of salivary gland
oropharyngeal cancer
osteonecrosis of the jaw
paranasal sinus and nasal cavity cancer
parathyroid adenoma
parathyroid cancer
salivary gland disorders
sinus cancer
sinus mass
squamous cell carcinoma of skin of lip
subglottic stenosis
temporal bone cancer
throat cancer
throat mass
thyroglossal duct disorders
thyroid cancer
thyroid nodule
thyroid surgery
tongue cancer
tongue mass
toxic nodular goiter
tracheal dilatation
tracheal mass
tracheal reconstruction
transoral laser microsurgery
transoral robotic surgery (tors)
tumor of nose
tumor of parotid gland
virtual care
Swedish Head and Neck Surgery - Edmonds
21605 76th Avenue West, Suite 200
Edmonds, WA 98026
Swedish First Hill
747 Broadway
Seattle, WA 98122
Patient Reviews
(70 Reviews)
excellent Medical service
Thank you Dr. Gokden for removing the squamous cancer. I appreciate you and your skills.
PROVIDER WAS EXTREMELY PROFESSIONAL, KNOWLEGEABLE, EFFICIENT AND COURTEOUS
Dr Golden is an excellent surgeon. I like him a lot.
Doctor Golden has always treated me like I was a treasured family member. He and his staff have always been excellent. I cannot say enough good things about Dr Golden. He has always taken the greatest of care to ensure I understand everything that is happening - and has always taken the time to discuss anything I need to talk about
Very personable, considerate and interested in listening to my concerns. He took the time to explain my procedure, to include risks, what to expect, and how long for results. Would definitely recommend him!
A wonderful Dr. , I received the greatest care from everyone. Thank you.
Dr. Golden is an awesome doctor, very personable, easy to talk to, caring, knowledgeable in his field. Would highly recommend to anyone.
I have great respect for Dr. Golden
All my experience with Dr Golden have been very good.
Outstanding healthcare service; exemplary patient care, and very professional and friendly staff.
excellent experience - informational and was able to make a decision that was beneficial to my healtj
The Patient Rating score is based on responses given during the CAHPS Patient Experience Survey. Comments are also gathered from the same survey and displayed in their entirety with the exception of any language that may be considered slander, libel or contain private health information, which will be removed prior to publishing the comments. Responses are measured on a 10 - point scale, with 10 being the best score. These scores are then translated to a 5 - point scale in order to display results in a 5 - star rating.