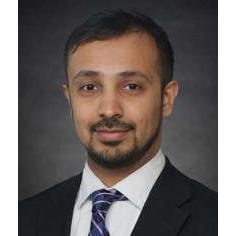 Sameer A. Gafoor, M.D.
Medical Director, Structural Heart and Valve Disease
Rating 4.7
Accepting New Patients
Swedish Heart & Vascular - Cherry Hill
US
About Sameer A. Gafoor, M.D.
Dr. Gafoor's passion is the field of structural heart disease. This new and rising field is an innovative way to approach complex heart and valve disease patients without open heart surgery. Whether patients have aortic stenosis, mitral regurgitation, atrial fibrillation, a prior heart valve that now needs replacement or more - this century has possibilities that were not available even as recently as five years ago. Dr. Gafoor trained in the US as well as abroad, and his goal is to bring patients the best in worldwide care right at their doorsteps. The Structural Heart & Valve Disease team's goal is patient safety and quality of life, and they want to not only add years to each patient's life, but life to each patient's years. Patients are important to Dr. Gafoor - not just for who they are and what they've done, but also for what they plan to do. Not just today, but tomorrow, and for the future after that.
Insurances Accepted
Aetna Medicare Advantage HMO
Aetna Medicare Advantage PPO
Aetna PPO
Amerigroup - Medicare Advantage
Cigna PPO
Community Health Plan of Washington (WA Apple Health)
Coordinated care (WA Apple Health)
First Health/Coventry PPO
Health Net - TriCare
Humana - ChoiceCare PPO
Humana Medicare Advantage HMO
International Community Health Services Pace Program
Kaiser Foundation
Medicare
Molina
Molina Healthcare (WA Apple Health/Healthy Options)
Multiplan PPO
Premera Medicare Advantage HMO
Providence Health Plan
Providence Health Plan - Medicaid
Providence Health Plan - Medicare Advantage
Regence BlueShield of Washington
United Healthcare HMO
United Healthcare Medicare Advantage
United HealthCare PPO
WellCare
Clinical Interests
abnormal coronary angiography
abnormal electrocardiogram (ekg)
abnormal stress test
acute bacterial endocarditis
anomalies of the coronary artery
anomalous left coronary artery from the pulmonary artery (alcapa)
aortic stenosis
aortic valve disease
arrhythmia
atherosclerosis
atherosclerosis of the aorta
athletic heart syndrome
atrial fibrillation
atrial flutter
atrial tachycardia
atrioventricular block
atrioventricular septal defect
autoimmune pericarditis
av nodal arrhythmia
bradycardia
cardiac angina
cardiac arrest
cardiac catheterization
cardiac conduction defects
cardiac disease in pregnancy
cardiac insufficiency
cardiac risk assessment
cardiac sarcoma
cardiomegaly
cardiomyopathy
cardiospasm
chest pain
cholesterol disorders
complete atrioventricular block
conduction defects
congestive heart failure (chf)
coronary angiography
coronary artery disease
coronary artery fistula
coxsackie endocarditis
diabetic cardiomyopathy
dyspnea on exertion
elevated creatine kinase
enhanced external counterpulsation therapy eecp
familial arrhythmias
family history of heart disease
family history of sudden cardiac death
heart murmur
heart racing
holter monitor
hypertension
hypertrophic cardiomyopathy
in office cardiac echocardiogram
in office cardiac stress test
infiltrative disorders of the heart
intra aortic balloon pump
intravascular ultrasound
ischemic cardiomyopathy
laser atherectomy
left atrial appendage occlusion
left bundle branch block
left heart failure
malignant hypertension
microvascular dysfunction
mitral regurgitation
mitral valve insufficiency
mitral valve prolapse
myocardial infarction (mi)
myocarditis
myxoma
orthostatic hypotension
palpitations
papillary muscle disorders
paroxysmal supraventricular tachycardia
paroxysmal tachycardia
paroxysmal ventricular tachycardia
patent ductus arteriosus
patent foramen ovale
pericarditis
postural tachycardia syndrome
premature beats
premature ventricular contractions
preventative cardiology
prinzmetals angina
pulmonary artery stenosis
pulmonary edema
pulmonary valve disorders
pulmonary valve insufficiency
pulmonary valve stenosis
refractory angina
rheumatic mitral regurgitation
rheumatic mitral stenosis
rheumatic mitral stenosis with insufficiency
rhythm disorder
right bundle branch block
right ventricular hypertrophy
supraventricular tachycardia
syncope
tachycardia
tee
thrombosis
transcatheter aortic valve replacement
transesophageal echocardiography
transposition of great vessels
transthoracic echocardiogram
tricuspid regurgitation
tricuspid valve disease
valve stenosis
valvular endocarditis
vasovagal syncope
ventricular tachycardia
virtual care
wolff parkinson white syndrome
Swedish Cherry Hill Campus
500 17th Ave.
Seattle, WA 98122
Swedish Edmonds
21601 76th Avenue West
Edmonds, WA 98026
Patient Reviews
(111 Reviews)
Dr. Gafoor is one of the best doctors I have every had. He listens and explains everything so clearly. He has a great sense of humor, but is serious when he needs to be. What a treasure!
It was an excellent medical experience
He is a kind, extremely compassionate, caring, highly-qualified practitioner. He is a perfect example of what and how a physician should be. i am so glad and fortunate that Dr Gafoor was recommended to me and that he accepted me as a patient.
I was blessed to have had Dr. Gafoor and his team care for me. I appreciated the continuity of care with all the caregivers with which I was associated. Also, the clarity explaining each forthcoming test or procedure, related to my specific care, was of immense comfort. Thank you Dr. Gafoor and all of your staff for providing excellent care. If the need should arise in the future, I pray I will be able to be cared for by you and in the Swedish Hospital [...]
Dr Gafoor seemed to really care about my health and is concerned for my ongoing well-being and treatment.
First time I've seen this provider but so far my experience has been good. The doctor has ordered more tests and I will have follow-up visits with the doctor after these test are completed to go over my results.
he listened very good. very attentive and knew his stuff
Iam so lucky to have a Doctor like Mr.Gafoor, he cares and does a great job!!'
He is a doctor that listens carefully, very knowledgeable and is methodical in his approach to analyzing a problem.
Dr. Sameer Gafoor has been conscientious in his care of me. I gratefully appreciate the knowledge he shares and the care he has given me. He is a good doctor that acts as a good man. He and his staff are great. The Cherry Hill Cardiac staff are excellent. I feel consoled as a result.
Dr. was a good listener and explain to me what exactly the procedure is and calm me down too.
no complaints. I was advised and forwarded for further consultations and advice
Dr. Gafoor also ordered a post surgery echocardiogram which occurred 2 days later, he called me the same evening of my echocardiogram to discuss and also talk about next steps in my care. He was very thorough in answering my questions
I choose him my future cardiologist
feel very confident in dr. Gaffoor. super smart, forward thinking and kind. his staff his so per great. I'm for fortunate to have them helping me.
Dr. Gafoor and the staff are always pleasant and professional. No concerns on my part.
The Patient Rating score is based on responses given during the CAHPS Patient Experience Survey. Comments are also gathered from the same survey and displayed in their entirety with the exception of any language that may be considered slander, libel or contain private health information, which will be removed prior to publishing the comments. Responses are measured on a 10 - point scale, with 10 being the best score. These scores are then translated to a 5 - point scale in order to display results in a 5 - star rating.