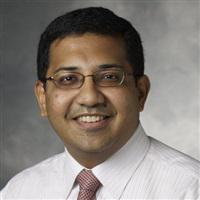 Somasundaram Subramaniam, M.D.
Medical Oncologist
Rating 4.7
Accepting New Patients
Medical Oncology - Swedish Cancer Institute First Hill
US
About Somasundaram Subramaniam, M.D.
Dr. Somasundaram Subramaniam is a Medical Oncologist at the Swedish Cancer Institute in Seattle, Washington. He has specialized expertise in the management of Gastrointestinal (GI) Cancers. This includes common cancers like colon and rectal cancers and also less common cancers like stomach cancer, neuroendocrine tumors (NETs) and liver and bile duct cancers. He also treats patients with lung cancer and kidney cancer. Dr. Soma chose to pursue a career in Oncology to help patients diagnosed with very serious illnesses and their families by providing hope, education and the best opportunities for treatment and cure. He is thrilled to be working with at Swedish, which has an excellent group of caring and highly-trained physicians, nurses and providers who all work very closely together with a robust multi-disciplinary team approach.. Dr. Subramaniam is an investigator on several clinical trials and a key member of the Personalized Medicine Research Program at Swedish, which focuses on the using a tumor's DNA mutations to target it with newer drugs. The Swedish Cancer Institute prioritizes opening cutting-edge clinical trials to ensure patients have access to the latest innovations in cancer therapy Dr. Subramaniam graduated from medical school at the National University of Singapore and obtained sub-specialty training during his fellowship at Stanford University, which was supported by a T32 training grant awarded by the National Institutes of Health. He is board-certified in Internal Medicine and Medical Oncology. Dr. Subramaniam also earned a Master of Science degree in Epidemiology and Clinical Research from Stanford. In addition to treating patients with cancer, Dr. Subramaniam is the Medical Director of the Cancer Control program, which emphasizes preventative measures and appropriate cancer screening, to reduce the incidence and burden of cancer in our community.
Education
Stanford University

Fellowship

University of Hawaii

Residency

National University of Singapore

Medical School
Board Certifications
American Board of Internal Medicine - Medical Oncology
American Board of Internal Medicine - Internal Medicine
Associations
American Society of Clinical Oncology
Languages
Insurances Accepted
Aetna Medicare Advantage HMO
Aetna Medicare Advantage PPO
Aetna PPO
Amerigroup - Medicare Advantage
Cigna PPO
Community Health Plan of Washington (WA Apple Health)
Coordinated care (WA Apple Health)
First Health/Coventry PPO
Health Net - TriCare
Humana - ChoiceCare PPO
Humana Medicare Advantage HMO
International Community Health Services Pace Program
Kaiser Foundation
Medicare
Molina
Molina Healthcare (WA Apple Health/Healthy Options)
Multiplan PPO
Premera Medicare Advantage HMO
Providence Health Plan
Providence Health Plan - Medicaid
Providence Health Plan - Medicare Advantage
Regence BlueShield of Washington
United Healthcare HMO
United Healthcare Medicare Advantage
United HealthCare PPO
WellCare
Clinical Interests
cancer
cancer chemotherapy
cancer during pregnancy
cancer survivor
colon cancer
colorectal cancer
colorectal screening
egfr mutation
endocrine complications of cancer therapy
gastrointestinal (gi) cancer
malignant neoplasm of liver
mesothelioma
pain management
pancreas cancer
plasma cell dyscrasia
pulmonary metastases
teratogen exposure
unknown primary cancer
virtual care
Swedish First Hill
747 Broadway
Seattle, WA 98122
Swedish Cherry Hill Campus
500 17th Ave.
Seattle, WA 98122
Patient Reviews
(91 Reviews)
Dr. Soma is the best oncologist I can imagine
Dr. Somasundaram and his team are excellent. I am well cared for, results and answers to questions are always explained, and appointments, follow ups and scheduling are never a problem. They ae an exceptional team of caregivers.
I love the care I get from Dr. Somasundaram. He always listens to my concerns and I feel like he knows me personally. I would highly recommend him.
I am completely satisfied with my care provider
Dr. Somasundaram is the best. Thanks to his treatment, I am 5.5 years cancer free (pancreatic). He has always been a pleasure to visit, he always answered all my questions honestly and thoroughly. He is a very positive force, and I will always feel lucky and grateful that he was my oncologist. I have now "graduated," thanks to his outstanding care.
He cares for my well being, one of the best in his field and has a great sense of humor.
he the best provider in Swedish medical center
No bad experiences. I'm a Swedish fan. I've always been treated courteously and professionally by everyone on the Swedish staff.
I feel as though I'm in the best hands possible!
Sometimes I think that my provider doesn't take his time seeing me. That's how I feel.
Other than wait times, this provider has been excellent
Dr. Soma is always a good fit for me. He treats me with good spirits. I owe my life to him.
Thank YOU Dr. Soma and staff for the always extraordinary and excellent care.
Dr. Soma is always professional and thoughtful.
I am very happy with Dr. Soma and very thankful for his care.
[...] He was and is great and we are very happy
Care was given promptly and courteously.
caring, listened, explained thoroughly, did not rush us,
A fine visit. Things got backed up before my appointment, so it was almost an hour late.
I'm very happy with Dr Soma!
Dr. Soma is a compassionate doctor, he is transparent and provides understandable answers to my questions. I feel very confident that he will be able to help heal the cancer I have been diagnosed with. He makes me feel comfortable given this situation.
I have had extremely wonderful care from this provider and all the staff within its network.
Dr. Soma was well versed in my complex and unusual history. He knew the members of my treatment team that I saw at Swedish in the last 4 years. His communication was very timely back to my primary oncologist and the surgeon who performed the debulking surgery several years ago. Left feeling confident in my treatment going forward. Highly recommend Dr. Soma and his team.
I have never received better care.
The Patient Rating score is based on responses given during the CAHPS Patient Experience Survey. Comments are also gathered from the same survey and displayed in their entirety with the exception of any language that may be considered slander, libel or contain private health information, which will be removed prior to publishing the comments. Responses are measured on a 10 - point scale, with 10 being the best score. These scores are then translated to a 5 - point scale in order to display results in a 5 - star rating.