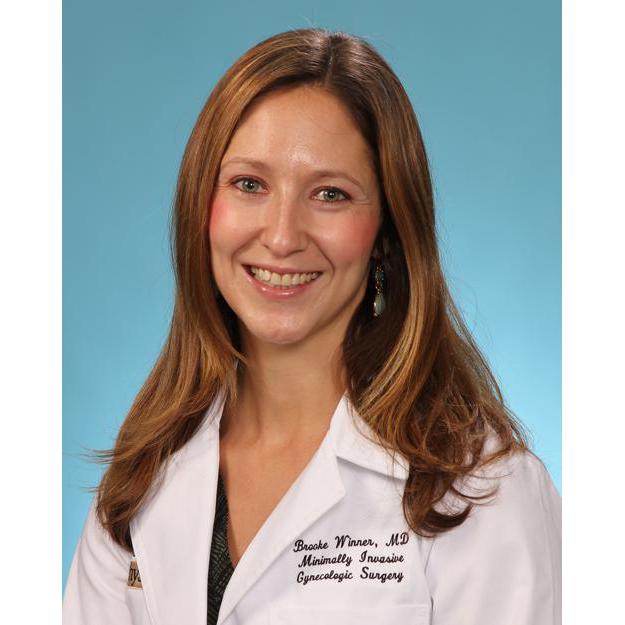 Brooke A. Winner, M.D.
Medical Director
Accepting New Patients
About Brooke A. Winner, M.D.
"*COVID-19 UPDATE: The operating rooms are open. If you are considering gynecologic surgery, call today to schedule a virtual consultation.* Dr. Winner (She/Her/Hers) is a fellowship-trained, minimally invasive gynecologic surgeon, and the Medical Director for Gynecologic Surgery at Swedish Medical Center. She specializes in the treatment of uterine fibroids, endometriosis, adenomyosis, ovarian cysts and other gynecologic conditions. By doing two additional years of dedicated surgical training, and never having practiced obstetrics, she has been able to focus her entire career on gynecologic surgery and performs a very high volume of laparoscopic hysterectomy, laparoscopic myomectomy, laparoscopic ovarian cystectomy and laparoscopic excision of endometriosis. Most of her patients are referred by general obstetrician/gynecologists (OB/GYNs), for surgeries they deem too difficult. Dr. Winner is able to offer a minimally invasive approach to almost every woman including those with extremely large fibroids, Stage IV endometriosis (including bowel endometriosis), and patients with known or suspected adhesions (multiple prior abdominal surgeries, prior pelvic infections or mesh in place). She is passionate about patient care, and she loves to educate her patients about their diagnosis and options. Reflecting this, she has received numerous patient satisfaction awards and was rated in the top 10% of all Washington University physicians, and is highly rated on Google, Yelp, Vitals and Healthgrades. She has several peer-reviewed publications in journals including The New England Journal of Medicine, Obstetrics and Gynecology, the Journal of Minimally Invasive Gynecology, and Gynecologic Surgery. Her research interests include improving minimally invasive gynecologic surgical outcomes, and making less-invasive treatments safer and more available to women. If you would like to learn more about Dr. Winner and her gynecologic surgery practice, you can find her on Instagram @dr.brookewinner and on Facebook @ Dr. Brooke Winner, MD. You can also listen to a podcast interview with Dr. Winner at www.gritcitywomen.com/podcast/."
Education
University of Washington

Medical School, 2008

Washington University

Residency, 2012

Washington University

Fellowship, 2014
Board Certifications
American Board of Obstetrics and Gynecology
Associations
American Association of Gynecologic Laparoscopists (AAGL)
American College of Obstetricians and Gynecologists (ACOG)
Seattle Gynecologic Society (SGS)
Publications
Languages
Insurances Accepted
Aetna Medicare Advantage HMO
Aetna Medicare Advantage PPO
Aetna PPO
Amerigroup Medicaid (WA Apple Health)
Cigna PPO
Community Health Plan of Washington - Medicare Advantage
Community Health Plan of Washington (WA Apple Health)
First Choice PPO
Humana Medicare Advantage
Kaiser (Contract Limitations)
Medicare
Molina Healthcare (WA Apple Health/Healthy Options)
Multiplan PPO
Optum
Premera Heritage
Premera Medicare Advantage HMO
Providence Health Plan - Medicare Advantage
Regence PPO
United HealthCare Medicaid (WA Apple Health)
UnitedHealthcare - AARP HMO
Clinical Interests
abnormalities of the uterus
adnexal mass
arcuate uterus
bicornuate uterus
bleeding during intercourse
cervical biopsy
cervical conization
complex pelvic surgery
dermoid cyst
dilation and curettage
dysmenorrhea
dyspareunia
endometrial ablation
endometrial biopsy
endometrial hyperplasia
endometrioma
endometriosis
fibroid removal
fibroids
gender affirmation surgery
heavy menstrual bleeding
hysterectomy
hysteroscopic adhesiolysis
hysteroscopic myomectomy
hysteroscopy
irregular menstruation
laparoscopic hysterectomy
laparoscopic myomectomy
laparoscopic oophorectomy
laparoscopic ovarian cystectomy
laparoscopy
leiomyoma
lgbtq health
loop electrosurgical excision procedure
minimally invasive gynecologic surgery
minimally invasive hysteroscopy
ovarian cyst
ovarian cystectomy
ovarian endometriosis
ovarian mass
partial hysterectomy
pelvic adhesions
pelvic mass
pelvic pain
polypectomy
polyps
postmenopausal bleeding
prophylactic oophorectomy
submucosal tumors
teratoma
teratoma of ovary
transgender care
tubal ligation
uterine bleeding
uterine mass
uterine septum
uterus didelphys