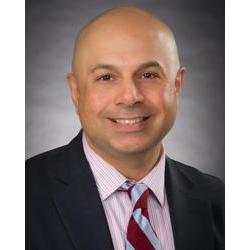 Pravin Khemani, M.D.
Rating 4.7
Accepting New Patients
Swedish Neuroscience Specialists - Movement Disorders
US
About Pravin Khemani, M.D.
"Movement disorders are most effectively treated by adopting a multidisciplinary approach and closely collaborating with the patient, the family and other caregivers. Every member of the clinical team is invaluable in delivering high-quality, high-value care to patients and their families."
Education
Wayne State University

Medical School, 1999

Stanford University Medical Center

Fellowship, 2008

Oakwood Hospital

Internship, 2000

University of Texas

Residency, 2003

University of Texas

Fellowship, 2004
Board Certifications
American Board of Psychiatry and Neurology
Publications
Autonomic dysfunction and management in Handbook of Parkinson's Disease, Fourth Edition. Edited by Rajesh Pahwa, Kelly E. Lyons (with Richard B. Dewey, Jr, M.D., and Shilpa Chitnis, M.D., PhD.).

Rosenberg R. N., Khemani P. The Inherited Ataxias. In: Rosenberg R.N., Pascual J. M., eds. Rosenberg's Molecular and Genetic Basis of Neurological and Psychiatric Disease, Fifth Edition. Massachusetts: Academic Press. 2014, 2018

Adult onset cerebellar ataxia-a review. Broca's area. Texas Neurological society. December 2012.

Sharma, V.D., Bona, A.R., Mantovani, A., Miocinovic, S, Khemani, P., Goldberg, M., Foote, K., Whitworth, A.L., Chitnis, S., Okun, M. Cystic lesions as a rare complication of deep brain stimulation. Movement Disorders Clinical Practice. 16 SEP 2015 | DOI: 10.1002/mdc3.12230

Freifeld Y, Kapur P, Chitkara R, Lee F, Khemani P, Bagrodia A. Metastatic "burned out" seminoma causing neurological paraneoplastic syndrome-not quite "burned out."Front Neurol. 2018 Jan 30;9:20. doi: 10.3389/fneur.2018.00020.

Orengo JP, Khemani P, Day JW, Li J, Siskind CE. Charcot Marie Tooth disease type 4J with complex central nervous system features. Ann Clin Transl Neurol. 2018 Jan 22;5(2):222-225. doi: 10.1002/acn3.525.

Dubey D, Khemani P, Remster E, Elliott, JL. Gradually Progressive spastic ataxia in a young man: steadily unsteady. JAMA Neurol. 2016 Dec 12. doi: 10.1001/jamaneurol.2016.1581

Samudra, N, Patel, N, Womack, KB, Khemani P, Chitnis S. Psychosis in Parkinson Disease: A Review of Etiology, Phenomenology, and Management. Drugs Aging. 2016 Dec; 33(12):855-863

Dewey RB 3rd, O'Suilleabhain PE, Sanghera M, Patel N, Khemani P, et. al. Developing a deep brain stimulation neuromodulation network for Parkinson disease, essential tremor and dystonia. PLoS One. 2016 Oct 6;11(10):e0164154. doi: 10.1371/journal.pone.0164154. eCollection 2016.

Khemani, P., Dewey, R.B. Jr. Deep brain stimulation of the subthalamic nucleus: taking the ouch out of Parkinson Disease. JAMA Neurol. 2015 May; 72(5):499-500

Dubey, D., Sawhney, A., Greenberg, B., Lowden, A., Warnack, W., Khemani, P., Stuve, O., Vernino, S. The Spectrum of autoimmune encephalopathies. J Neuroimmunology. 2015 Aug; 287:93-97

Miocinovic, S, Khemani, P, et al. Outcomes, management, and potential mechanisms of interleaving deep brain stimulation settings. Parkinsonism and Related Disorders. 2014 Dec; 20(12):1434-7

Dewey, D.C., Miocinovic, S, M.D., Ph.D., Bernstein, I., Ph.D., Khemani, P., M.D., Dewey, III, R.B., M.D., Querry, R., Ph.D., Chitnis, S.C., M.D., Ph.D., Dewey, Jr., R., B.S., Automated gait and balance parameters diagnose and correlate with severity in Parkinson's Disease. J Neurol Sci. 2014 Oct 15; 345(1-2): 131-8

Long-term Study-1. NINDS NET PD Investigators. Mov Disord. 2012 Oct; 27 (12):1513- 21
Languages
Insurances Accepted
Aetna Medicare Advantage HMO
Aetna Medicare Advantage PPO
Amerigroup Medicaid (WA Apple Health)
Community Health Plan of Washington (WA Apple Health)
First Choice PPO
Humana Medicare Advantage
Kaiser (Contract Limitations)
Medicare
Molina Healthcare (WA Apple Health/Healthy Options)
Multiplan PPO
Premera Heritage
Premera Medicare Advantage HMO
Providence Health Plan - Medicare Advantage
Regence PPO
UnitedHealthcare - AARP HMO
Clinical Interests
ataxia
blepharospasm
botox for dystonia
botox for hemifacial spasm
cervical dystonia
chorea
corticobasal degeneration
deep brain stimulation
dystonia
huntington's disease
lewy body dementia
movement disorders
multiple system atrophy
myoclonus
parkinson's disease
progressive supranuclear palsy
tardive dyskinesia
tremor
virtual care
Patient Reviews
(132 Reviews)
This was the best experience I've had with a neurologist in years. Dr. Khemani was kind, thoughtful, empathetic and a good listener. I immediately felt at ease during my appointment. Dr. Khemani was very knowledgeable about my condition and offered great suggestions for additional care to improve my quality of life. I can't say enough good things about Dr. Khemani and the entire office staff. As a new patient, I was more than pleased with my experience and look forward to continuing in Dr. Khemani's care The office staff was professional and took care of every aspect of my care. AA+.
I am considered a serious medical procedure and I trust Dr Khemani to help me make the best decisions possible.
Dr. Khemani is very attentive and listens to concerns. Virtual visits are hard to see the shaking. He addressed all the issues I had.
Made me feel like a team member.
I could not have chosen a better specialist for my essential tremors then Dr. Khemani I am lucky to have him.
Fantastic provider. He was a specialty provider that I may never have to see again but I would in a heart beat if I ever needed. He was fantastic. So caring and answered questions. Ever med student should spend a day with him. Not only did he interact with me that way but with other staff as well. He is AWESOME. Best doctor around.
i was very happy with the care i received
Dr. Khemani and his team are Wonderful! Everyone was friendly, professional, and thorough.
Outstanding doctor who cares Great staff as well
Dr Kahmeni was exceptionally kind, attentive, knowledgeable and caring He practices by the whole patient philosophy and really listened and took the time to get to know me during the visit. Working with him was a wonderful, empowering experience. The best!
I am VERY fortunate to have this provider as one of my Doctors! It will be a pleasure to meet him in person after I have my Covid vaccine shots!
the doctor found a potential misdiagnosis by my previous provider; but furnished very little info about my new diagnosis
Informative, he was very educated on my disease
This was a first time appointment with my new specialist. He seemed efficient, scientific, and to the point.
I liked him he was very informative
First time at this office & was very impressed with the Dr. & his staff.
I feel very comfortable with Dr Khemani and have a great deal of confidence in his care. He is always upbeat, positive and encouraging. each time I have seen him he has new suggestions for me to deal with my PD and improve my overall well being.
I appreciated Dr. Khemani so much! Kind and knowledgeable. Great office staff.
outlined a new diagnosis and wasn't afraid to disagree with a fellow clinicians' view. ordered follow-up tests and explained his assessment and plan of action.
Dr. Khemani worked diligently during my appointment to test, document and listen. He understood my concerns and symptoms. The most admirable result was that Dr. Khemani made the necessary diagnosis and wrote referrals for treatments. He provided hope. The whole staff provided hope. Thank you.
I am very impressed with his obvious concern for solving the problem. Very professional, very friendly
[...] visitations with the Doctor have generally been okay.
Great Physician !!! Very though and caring.
I have improved a lot with the treatment from Dr. Khemani.
I am very satisfied with my Dr. And staff, I have always received the best care possible. Thank you.
I strongly feel that Providence could learn alot from Swedish as a roll model.
Dr. Khemani was as attentive and compassionate as a doctor can be.
Very concerned about my health. Explanations clear and concise.
He provided more information about my diagnosis.
Dr. Khemani was brewery knowledgeable, kind and compassionate about my diagnosis. I know I am in good hands and on the right path. I feel much more hopeful than ever before.
Dr Khemani is thorough and explains what he finds. He is kind, professional and positive.
we discussed at length treatments for my essential tremors. the doctor was very thorough and informative.
other than late, care was excellent
It's the 1st time I could remember that I felt comfortable with a doctor in the same room.
Dr Khemani is so kind and encouraging!! He listens and answers all questions. I would highly recommend him!!
A great experience. I felt the doctor was respectful and had a good plan to deal with my issue.
My doctor was extremely compassionate and spent extra time with me to determine another specialist I should see and emailed that specialist to ensure I would get a callback from her.
Dr Khemani is my Neurologic Care specialist thatI chose to fly in and self pay to see. He has provided me with excellent care for [...] for 7 years now.
Dr. Khemani is always awesome and courteous.
I had a good experience. This doctor is knowledgeable and capable.
[...] In my being a Elderly person, he could have been a little more courteous in His analysis of my situation.
Dr Kemani has been extremely helpful in the management of my Parkinson's disease and in treating my neck pain caused by Dystonia. He invites me to actively participate in my wellness plan. Dr Kemani values the information I share with him regarding changes in my health, as it relates to my PD. He is the most knowledgable and helpful movement specialist neurologist I have worked with at Providence/Swedish.
The Patient Rating score is based on responses given during the CAHPS Patient Experience Survey. Comments are also gathered from the same survey and displayed in their entirety with the exception of any language that may be considered slander, libel or contain private health information, which will be removed prior to publishing the comments. Responses are measured on a 10 - point scale, with 10 being the best score. These scores are then translated to a 5 - point scale in order to display results in a 5 - star rating.