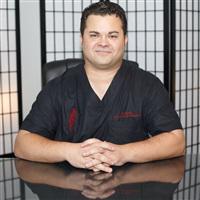 Jason G. Attaman, D.O.
Pain Medicine Physician
Accepting New Patients
About Jason G. Attaman, D.O.
Dr. Attaman was elected by other physicians as a Seattle Met "Top Doc" in Pain Medicine for 2015, 2016, 2017, 2018, 2019 and 2020. Dr. Attaman was elected as a Seattle Magazine "Top Doc" in Pain Medicine for 2019. He is the only Pain Medicine doctor to receive the Top Doc award from both magazines in 2019. He is a medical school Clinical Assistant Professor. If you are reading this, chances are you are trying to find relief for your pain issues. It is very difficult choosing which physician to see when you are suffering from chronic pain. Should you see a pain doctor, a surgeon, a neurologist, a chiropractor, a naturopath, an acupuncturist? The choices and options are bewildering! If you choose to see Dr. Attaman, you will find a physician that will thoroughly examine your case, and suggest treatment options for you that will draw from every specialty of medicine. Generally Dr. Attaman likes to try conservative treatment options such as physical therapy before invasive options such as pain reducing injections and surgery. Therefore if massage therapy is best for your condition, that will be offered. Though he does everything to prevent it, if Dr. Attaman thinks you require surgery, you will be referred to the best surgeons in the state. Dr. Attaman offers many dozens of treatment options for every type of pain, and takes pride in being honest with his patients about their choices. He will not waste your valuable time repeating treatments that have failed you. If you have already had dozens of sessions of physical therapy and chiropractic, tried dozens of medications over the years, and in general are "fed up" with nothing working for you, Dr. Attaman will promptly and appropriately offer you much more advanced pain management options in which he is extensively trained. Dr. Attaman is always amazed at the treatment options available to patients who have been suffering from pain for even decades. Dr. Attaman is board certified and Anesthesiology-fellowship trained in the medical subspecialty of Pain Medicine and Interventional Pain Management. He is also residency trained and board certified in the specialty of Physical Medicine and Rehabilitation. He is one of only a few with such extensive qualifications in the state of Washington. Click here to learn more about Dr. Attaman's board certifications with the American Board of Medical Specialties. He is expert at diagnosing and treating every form of pain, ranging from common back pain to face pain to cancer pain. He uses pain reducing injections and procedures to combat difficult to treat pain conditions. He will guide his treatments to help reduce or eliminate your need for pain medications. He will advise your primary care physician on the best ways to treat your pain. In addition, he has had extensive training in integrative and "alternative" medicine. He has trained extensively with some of the most prominent alternative medicine physicians, including Dr. Joseph Mercola (naturopathic medicine), Dr. Dietrich Klinghardt (neural therapy), and late Dr. Thomas Dorman (prolotherapy). Dr. Attaman's goal as your physician is to offer you the best of both conventional and alternative medicine for a truly integrative approach to your pain issues.
Education
University of Michigan

Residency

Wayne State University

Fellowship

Chicago College of Osteopathic Medicine

Medical School
Board Certifications
American Board of Physical Medicine and Rehabilitation - Pain Medicine
American Board of Physical Medicine and Rehabilitation - Physical Medicine and Rehabilitation
Languages
Clinical Interests
abducens nerve disease
abducens nerve injury
abducens nerve palsy and paresis
abnormal echoencephalogram
abnormal eeg
abnormal emg
abnormal neuroimaging
abnormal reflexes
abnormal vestibular function test
absence epilepsy
accessory nerve disease
accessory nerve injury
achilles tendon tear
achilles tendonitis
acoustic neurofibromatosis
acute back pain
acute inflammatory demyelinating polyradiculoneuropathy
alcohol withdrawal
alcoholic encephalopathy
alogia
alternative medicine
ambulatory eeg
amnesia
amplified musculoskeletal pain syndrome (amps)
amyloid neuropathy
aneurysm
ankle impingement
ankle injury
anosmia
anoxic encephalopathy
anterior cruciate ligament (acl) injury
aphasia
apophysitis
arm injury
arm pain
arteriovenous malformation (avm)
ataxia
athetoid cerebral palsy
aura
autoimmune meningitis
autonomic dysreflexia
autonomic nervous system disorders
autonomic neuropathy
back injury
back muscle injury
back muscle pain
back pain
back surgery
baclofen therapy
beriberi
berry aneurysm
bicep injury
bicep tear
biceps tendonitis
body awareness disorder
botox for spasticity
botox injection
brachial plexopathy
brachial plexus lesions
brachycephaly
brain concussion
brain injury
brain injury rehabilitation
bulbar palsy
bursitis
calf muscle injury
carotid stenosis
carpal tunnel syndrome (cts)
cartilage injury
cauda equina syndrome
caudal injection
causalgia of lower limb
causalgia of upper limb
celiac plexus nerve block
central nervous system abscess
cerebellar anomalies
cerebellar ataxia
cerebellar disease
cerebral aneurysm
cerebral anomalies
cerebral arteritis
cerebral atherosclerosis
cerebral contusion
cerebral cyst
cerebral edema
cerebral hemorrhage
cerebral hernia
cerebral laceration
cerebral lipidosis
cerebral palsy
cerebral venous sinus thrombosis
cerebrospinal fluid abnormalities
cerebrospinal fluid leak
cerebrovascular accident (cva)
cerebrovascular disorders
cerebrovascular insufficiency
cervical spine injury
charcot marie tooth disease
childhood epilepsy
chorea
choreoathetosis
chronic inflammatory demyelinating polyneuropathy
chronic migraines
chronic pain
chronic post traumatic headache
ciliary neuralgia
circadian rhythm sleep disorder
cluster headache
common peroneal nerve lesions
concussion testing
concussive seizure
convulsion
corticobasal degeneration
cortisone injection
cranial nerve diseases
cranial nerve disorders
cranial nerve injury
cranial nerve palsy
creutzfeldt jakob syndrome
degenerative brain disorder
degenerative disorders of the balance organs
degenerative spine conditions
delirium
demyelinating disease
diabetic neuropathy
diabetic polyneuropathies
diagnostic lumbar puncture
diffuse axonal injury
diplegia of upper limbs
disc replacement
disorder of balance
disturbance of skin sensation
dizziness
drop attack
drug induced acute dystonia
dysarthria
dysautonomia
dyskinesia
dysphagia
dysphonia
dystonia
eeg telemetry
elbow pain
elbow sprain
electrodiagnostic medicine
electroencephalography
encephalopathies
enlarged optic nerve
enlarged ventricle
epicondylitis
epidural blood patch
epidural injection
epilepsy
erythromelalgia
essential tremor
executive function disorder
exvacuohydrocephalus
facet injection
facial asymmetry
facial nerve disease
facial nerve palsy and paresis
facial paresis
facial spasm
facial tingling
familial ataxia
fasciculations
femoral nerve lesions
fibromyalgia
focal dystonia
foot pain
friedreich ataxia
frontal lobe disinhibition
functional quadriplegia
fungal meningitis
ganglioneuroblastoma
gastrocnemius injury
generalized seizures
genetic dystonia
glossopharyngeal neuralgia
gluteal injury
grand mal status epilepticus
growth plate injury
guillain barre syndrome (gbs)
hamstring injury
handwriting tremor
head trauma
headache
hearing loss
heat illness
heel pain
hemiatrophy
hemicrania continua
hemidystonia
hemineglect
hemiparesis
hemiplegia
hereditary sensory neuropathy
hereditary spastic paraplegia
hip impingement
hip labral tear
hip pain
hip pain under age 60
hip rotator cuff tear
hiv dementia
hiv neuropathy
hydrocephalus
hydromyelia
hypertonia
hypnosis
hypoglossal nerve disease
hypoglossal nerve injury
hypotonia
idiopathic transverse myelitis
iliotibial band friction syndrome
impaired coordination
infantile cerebral palsy
infectious neuritis
intention tremor
intermittent cerebral ischemia
intermittent tremor
interventional pain management
intracranial arterial occlusion
intracranial hemorrhage
intracranial hypertension
intractable pain
intrathecal pump
isolated central nervous system vasculitis
joint sprain
knee injury
knee instability
knee pain
knee pain under age 60
knee stabilization
late effect of spinal cord injury
late effects of poliomyelitis
lateral collateral ligament injury
lateral collateral ligament tear
lateral epicondylitis
lateral sclerosis
leg injury
leg numbness
leg pain
leg weakness
lesions of popliteal nerve
lesions of sciatic nerve
leukodystrophy
lgbtq+ health
ligament injury
ligament tear
lip droop
lissencephaly
lobar atrophy of brain
locked in syndrome
locking knee
loss of consciousness
lumbar puncture
lumbar spine fusion
lumbosacral plexus lesions
macrocephaly
marcus gunn phenomenon
massage therapy
maternal neurologic disorders
medial collateral ligament injury
medial collateral ligament injury of the knee
medial epicondylitis
meniscus injury
meniscus tear
meralgia paresthetica
metabolic brain disorders
microcephaly
migraine
migraine treatment
minimally invasive spine surgery
mononeuritis
mononeuritis multiplex
monoplegia
monoplegia of upper limb
motor neuron disease
movement disorders
moyamoya
multiple sclerosis (ms)
multiple system atrophy
multisystemic disseminated toxoplasmosis
muscle cramps
muscle injury
muscle spasticity
muscle strain
muscle tears
muscle weakness
muscular dystrophy
musculoskeletal disorders
musculoskeletal ultrasound
myelitis
myelomeningocele
myelopathy
myoclonus
neck muscle injury
neck pain
nerve block
nerve compression syndrome
nerve conduction studies
nerve diseases
nerve root disorder
nerve sheath tumor
nervous system disorders
neuralgia
neuralgic amyotrophy
neuritis
neuroborreliosis
neurological disorders
neurometabolic disorder
neuromodulation
neuromuscular ultrasound
neuropathic arthritis
neuropathy
neurosarcoidosis
non ruptured cerebral aneurysm
normal pressure hydrocephalus
nucleoplasty
numbness
nutrition and supplement issues
occipital neuralgia
olfactory nerve disease
optic migraines
optic nerve and pathway injury
optic nerve disease
osgood schlatter disease
osteochondral defect
osteochondritis dissecans (ocd)
osteopathic manipulation
overuse injury
pachygyria
pain clinic
pain disorder
pain management
paralysis
paraneoplastic polyneuropathy
paraplegia
parasitic meningitis
paresthesia
patellofemoral instability
patellofemoral syndrome
pectoral muscle injury
pellagra
periodic paralysis
peripheral autonomic neuropathy
peripheral neuropathy
periventricular lesions
periventricular leukomalacia
periventricular mass
peroneal muscular atrophy
peroneal nerve injury
peroneal nerve lesions
peroneal tendonitis
petit mal status
pinched nerve
piriformis syndrome
plagiocephaly
plantar fasciitis
plantar nerve lesions
plexitis
plexopathy
poliodystrophia cerebri
poliomyelitis
polymicrogyria
polyneuropathy
post concussion syndrome
post laminectomy syndrome
post radiation pain
post thoracotomy chest pain
post traumatic amnesia
post traumatic headache
post traumatic seizures
posterior cruciate ligament (pcl) tear
posterior tibial tendon tear
postherpetic neuralgia
preventive medicine
primary progressive aphasia
problems with smell and taste
progressive muscular atrophy
progressive supranuclear palsy
pseudobulbar palsy
pseudotumor cerebri
psychogenic non epileptic seizures
quadricep injury
quadriplegia
radial nerve lesions
radiculopathy
radiofrequency rhizotomy
reflex neurovascular dystrophy
reflex sympathetic dystrophy
restless legs syndrome
rotator cuff impingement
rotator cuff injury
rotator cuff tear
running injury
schwannomatosis
segmental dystonia
sensory impairment
sensory problem with head
sensory problem with neck and trunk
sensory problems with limbs
shin splints
shoulder dislocation
shoulder impingement
shoulder injury
shoulder instability
shoulder pain
shoulder strain
silicone implants
single photon emission computed tomography
slurred speech
spasticity
spinal cord diseases
spinal cord stimulator
spinal muscular atrophy
spinocerebellar degeneration
spinocerebellar diseases
spondylolisthesis
sports physical exam
sports psychology
sports related ankle injury
sports related concussion testing
sports related foot injury
sports related injury
sprain
staring
status epilepticus
stereotypic movement disorder
stress fractures
subdural hematoma
subdural hemorrhage
sympathectomy
syphilis
syringobulbia
syringomyelia
tarsal tunnel syndrome
temporal sclerosis
tendonitis
tens therapy
tension headache
tetany
tetraplegia
thoracic outlet syndrome
throwing injury
tibial nerve lesions
tibial tendonitis
tic disorders
tingling
tonic clonic seizure
torsion dystonia
torticollis
total hip replacement
total knee replacement
tourette syndrome
toxic myoneural disorders
toxoplasmosis
transient cerebral ischemia
transient ischemic attack (tia)
transient limb paralysis
transient monocular vision loss
transverse myelitis
traumatic brain injury
tremor
tricep injury
trigeminal nerve injury
trigeminal nerve palsy and paresis
trigeminal neuropathy
trigger point injection
tuberculosis of meninges
tuberous sclerosis
twitching
ulnar nerve compression
ultrasound
unsteady gait
uremic encephalopathy
vagal nerve disorders
vagus nerve disease
vascular malformations of the brain
vascular myelopathy
vasculitic neuropathy
venezuelan equine encephalomyelitis
ventriculomegaly
vertebrobasilar insufficiency
vertebroplasty
vertigo
viral meningitis
visual evoked potentials (vep) test
vitamin b deficiency
wrist pain
wrist sprain