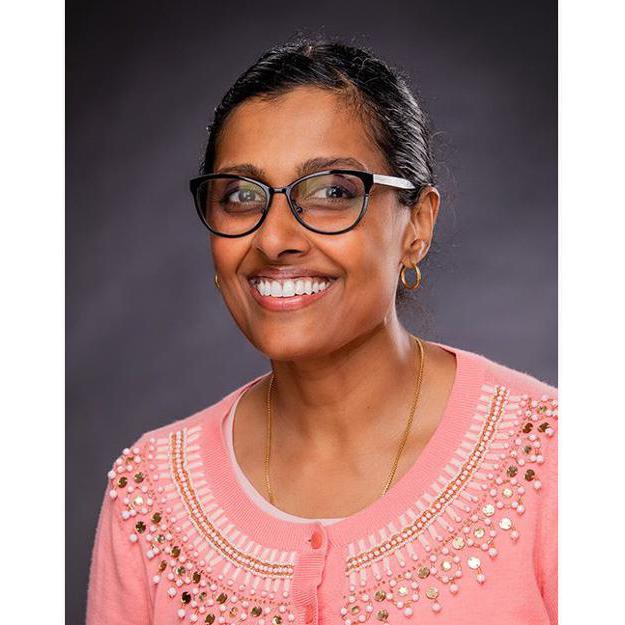 Uma K. Pisharody, FAAP, M.D.
Pediatric Gastroenterologist
Rating 4.7
Accepting New Patients
Swedish Pediatric Specialty Care - Issaquah
751 Northeast Blakely Drive
US
About Uma K. Pisharody, FAAP, M.D.
Dr. Pisharody is a 2021 Seattle Met Top Doctor Award winner. Inspired by her own pediatrician, Dr. Pisharody always knew she wanted to become an advocate for children's health. Experiences with malnutrition and diarrheal diseases during medical training in India, led to her choose a career in pediatric gastroenterology. Dr. Pisharody is passionate about helping children and families understand the connection between diet, nutrition, digestive health and well-being.
She participates in the medical advisory committee for the Northwest Chapter of the Crohn's and Colitis Foundation (CCF), and is the co-medical director for Camp Oasis, the annual camp for kids with Crohn's and Colitis. She also serves as a medical advisor for The Hypoglycemia Support Foundation and was proud to serve as an inaugural Scientific Advisory Board member for EatReal.org.
In 2014, she was proud to have helped convince the WA state legislature to pass a bill that mandated state-wide insurance coverage for children requiring elemental formulas to treat their EGIDs (Eosinophilic Gastrointestinal Diseases). In 2015, she led the charge to remove juice from being routinely offered to pediatric patients at Swedish Medical Center. Additionally, Dr. Pisharody's advocacy endeavors include lobbying efforts in Olympia, WA, on behalf of the CCF and the WA chapter of the American Academy of Pediatrics, and visiting schools to educate kids about the dangers of sugar and ultra-processed food.
In clinical practice, Dr. Pisharody's philosophy of care is to try her best to approach each patient and family she meets with the sincere intent to listen carefully and empathetically. She strives to ensure kids feel listened to, seen, and heard. She hopes her patients feel that she works with them, advocates for them, and that together, they can come to shared solutions to help children feel better.
Dr. Pisharody's efforts have been recognized - her peers have voted her a "Top Doc" several years in a row, selected by both Seattle Met Magazine and Seattle Magazine. She has also been awarded Castle Connolly's Exceptional Women In Medicine award since 2018.
Education
Jersey Shore University Medical Center

Residency

Manipal Academy of Higher Education Kasturba Medical College

Medical School, 1997

Louisiana State University Health Sciences Center, New Orleans

Fellowship
Board Certifications
American Board of Pediatrics - Pediatric Gastroenterology
American Board of Pediatrics - Pediatrics
Associations
North American Society for Pediatric Gastroenterology, Hepatology, and Nutrition
American Gastroenterological Association
American Society for Parenteral and Enteral Nutrition
American Academy of Pediatrics, Institute for Responsible Nutrition (Board of Directors)
Languages
Insurances Accepted
Aetna Medicare Advantage HMO
Aetna Medicare Advantage PPO
Aetna PPO
Amerigroup - Medicare Advantage
Choice /Humana PPO
Cigna PPO
Community Health Plan of Washington (WA Apple Health)
Coordinated care (WA Apple Health)
Coventry/First Health PPO
Health Net - TriCare
Humana Medicare Advantage
International Community Health Services Pace Program
Kaiser Foundation
Medicare
Molina
Molina Healthcare (WA Apple Health/Healthy Options)
Multiplan PPO
Premera Medicare Advantage HMO
Providence Health Plan
Providence Health Plan - Medicaid
Providence Health Plan - Medicare Advantage
Regence BlueShield of Washington
United Healthcare HMO
United Healthcare Medicare Advantage
United HealthCare PPO
WellCare
Clinical Interests
abdominal pain
abnormal amylase blood test
achalasia
acute pancreatitis
allergic colitis
allergic esophagitis
allergic gastroenteritis
anal fissure
anal fistula
anal itching
anal pain
anal polyp
anal spasm
anal stenosis
anal ulcer
anorectal disease
anorexia
autoimmune enteropathy
barrett's esophagus
biliary
biliary atresia
biliary cirrhosis
biologic therapy for gastrointestinal (gi) diseases
bleeding hemorrhoids
blood in stool
breath testing
celiac disease
childhood obesity
choking sensation
cholangitis
cholecystitis
cholelithiasis
cholestasis
chronic abdominal pain
chronic diarrhea
chronic pancreatitis
cirrhosis
clostridium difficile
colic
colitis
colonic polyps
colonoscopy
congenital cystic liver
congenital pyloric stenosis
constipation
crigler najjar syndrome
cyclic vomiting syndrome
cystic fibrosis related gastro intestinal complications
diarrhea
digestive disorders
diverticular disease
diverticulitis
diverticulosis
duodenal ulcer
duodenitis
dysmotility
dyspepsia
dysphagia
encopresis
end stage liver disease
endoscopy
eosinophilic colitis
eosinophilic enteritis
eosinophilic esophagitis
eosinophilic gastritis
eructation
esophageal disorder
esophageal mass
esophageal ulcer
esophageal varices
esophagitis
familial dyslipidemia
fatty liver
fecal impaction
fecal incontinence
feeding problems
feeding tube placement
flatulence
food allergy
food intolerances
fructose malabsorption
gallbladder disease
gallbladder polyp
gastric anomaly
gastric ulcer
gastritis
gastroenteritis
gastroesophageal reflux disease
gastroesophageal reflux disease in infancy
gastrointestinal bleeding
gastroparesis
gastroscopy
giardiasis
gluten sensitivity
glycogen storage disease
graft versus host disease
growth disorders
growth failure
helicobacter pylori
helminthiasis
hematochezia
hemorrhoids
hemorrhoids with complications
hepatitis
hepatitis c
hepatorenal syndrome
hiatal hernia
hirschsprung's disease
hydrops of gallbladder
hyperamylasemia
hyperbilirubinemia
idiopathic megacolon
ileitis
ileoscopy
inflammatory bowel disease
intestinal atresia
intestinal obstruction
intractable vomiting
intussusception
irritable bowel syndrome
jaundice
kwashiorkor
lactose intolerance
liver biopsy
liver disease
malabsorption
malignant neoplasm of liver
malnutrition
manometry
marasmus
meckel diverticulum
megacolon
megarectum
motility disorders
nausea
nutrition
obesity
obstipation
odynophagia
pancreatic insufficiency
pancreatitis
parasitic diseases
peptic ulcer
peritonitis
persistent vomiting
polypectomy
polyposis syndrome
polyps
portal hypertension
portal hypertensive gastropathy
portal pyemia
primary biliary cirrhosis
proctosigmoidoscopy
rectal bleeding
rectal fistula
rectal hemorrhage
rectal pain
rectal polyp
regional enteritis
right lower quadrant pain
right upper quadrant pain
rumination syndrome
sclerosing cholangitis
short bowel syndrome
sigmoidoscopy
small bowel disease
stomach cancer
stomach cramps
stomach pain
swallowing problem
tenesmus
tyrosinemia
ulcerative colitis
virtual care
vomiting
whipple's disease
wilson's disease
Swedish Pediatric Specialty Care - First Hill
1101 Madison Street, Suite 800
Seattle, WA 98104
Swedish First Hill
747 Broadway
Seattle, WA 98122
Swedish Issaquah
751 Northeast Blakely Drive
Issaquah, WA 98029
Patient Reviews
(35 Reviews)
The doctor was fabulous. She explained everything so well and it was obvious she took a lot of time prior to the appointment to read the chart and history because she could recall details of previous health episodes my son has experienced that we didn't tell her about...she would have read them in the chart. The only bad part of the experience was when we were wrapping up and the staff who was helping give us the paperwork and follow up appointments was not very helpful in helping us know where to get the tests done that the Dr. Ordered. She mentioned it would be better to go to a swedish facility but we could go to any urgent care that had the proper equipment but we asked where all the swedish facilities would be by our house and we were not given that information. It would have been nice to get a list of places that would for sure have the equipment necessary for these tests.
Dr Pisharody went above and beyond to understand and educate. Very compassionate. Great communicator.
Uma is patient, thorough, & sweet as pie (sugar free of course). A2 milk saved our lives. Uma for G.I. President!
Dr. Pisharody is an incredible provider. She was thorough and explained her diagnostic process and her assessment very clearly. She gave us great tools that helped both my husband and I and our 8 year old better understand what was going on.
Dr Pisharody is fantastic.
The Patient Rating score is based on responses given during the CAHPS Patient Experience Survey. Comments are also gathered from the same survey and displayed in their entirety with the exception of any language that may be considered slander, libel or contain private health information, which will be removed prior to publishing the comments. Responses are measured on a 10 - point scale, with 10 being the best score. These scores are then translated to a 5 - point scale in order to display results in a 5 - star rating.